Last Mercury Cougar Rolls Off Assembly Line at AAI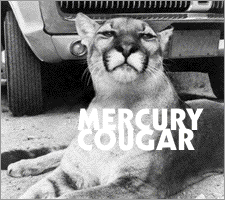 FLAT ROCK, Mich., Aug. 30, 2002 (FCN) – After four years in production, employees at the Ford-Mazda AutoAlliance International plant in Flat Rock, Mich. said goodbye this week to the Mercury Cougar sport coupe.
The last of more than 230,000 units rolled off of the assembly line on Wednesday, a moment marked by a brief employee ceremony. It also marked the last day of production for the Mazda 626 sedan, which is scheduled to be replaced by the all-new Mazda6 in October.
After having initial success drawing younger buyers and women into the Mercury brand when it was re-introduced in 1998, sales of the Cougar quickly cooled.


Phil Spender


Cheryl Rakoczy

"A lot of blood, sweat and tears has gone into these vehicles," said Phil Spender, president, AutoAlliance International. "Cougar was very much a niche product and its styling was avant garde at the time, but unfortunately, styling like that dates very quickly. That was clearly a factor."

For Cheryl Rakoczy, a 15-year quality inspection employee at AAI, the discontinuation of the Cougar carried special significance. Back on March 16, 1998, Cheryl was selected in a drawing to drive out in the first re-designed Cougar during Job #1 ceremonies for the 1999 model launch. On Wednesday, she was also on hand, driving the last model off of the assembly line.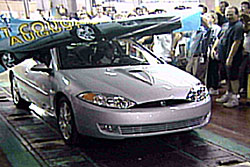 Last Mercury Cougar rolls off the line

"I'm sad to see it go," said Rakoczy. "I really liked this vehicle. But we're thankful to be able to focus on a new product coming in this fall, which is exciting too!"

"We're all looking forward to the future," said Spender. "Today marks a new beginning, starting with the new Mazda6 launch which we commence in October, and then move on to a second Ford product after that."