Blog

05-01-2012
Focus ST Ordered!

2 COMMENTS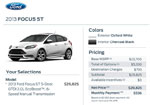 Today is the day I finally order my
Focus ST
. My
13 year old Cougar
has been showing it's age for some time, but I refused to buy a naturally aspirated car and the current forced induction vehicles on the market did nothing for me. Enter the Focus ST rumors almost a year ago to which I clung desperately. While a huge fan of the new Focus when it launched last year, I knew I'd need more than the 160hp the standard engine produced, and I wasn't keen on another
aftermarket option
, so the ST became my new fanboy obsession. After spotty reports of vehicle testing, tuning, and engineering sign off I'm finally on the precipice of greatness.
UPDATE:
It's official, I'm all ordered up and
in the queue