Blog

04-18-2012
Focus ST Order Form?

1 COMMENT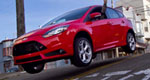 As my anticipation for the
Focus ST
grows, so does my daily news search for anything related to it. Today I was rewarded with
this possible order sheet
for my dream vehicle and immediately contacted my dealer to see if they also had it. Of course they had no idea what I was talking about and probably contacted security, but I sent them my choices based on the leaked form anyway.